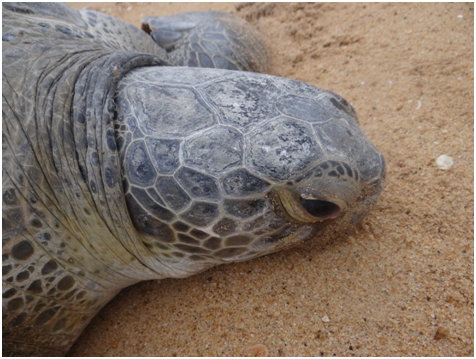 Monitoring data of marine turtles on Togolese coast over 2012-2013 period
Latest version published by Université de Lomé on

10 May 2018

Université de Lomé
This dataset contains information on the presence and distribution of sea turtle in Togo. Observations were carried out through a network of 10 eco-guards (local guides),facilitated by 5 fishermen and coordinated by a field technician; and all under the supervision of a scientific coordinator. It contains data on the occurrence or direct observation of sea turtles on the Togolese coast from September 2012 to August 2013. A total of 740 occurrences were recorded.
Data Records
The data in this occurrence resource has been published as a Darwin Core Archive (DwC-A), which is a standardized format for sharing biodiversity data as a set of one or more data tables. The core data table contains 740 records.
This IPT archives the data and thus serves as the data repository. The data and resource metadata are available for download in the downloads section. The versions table lists other versions of the resource that have been made publicly available and allows tracking changes made to the resource over time.
Downloads
Download the latest version of this resource data as a Darwin Core Archive (DwC-A) or the resource metadata as EML or RTF:
Versions
The table below shows only published versions of the resource that are publicly accessible.
How to cite
Researchers should cite this work as follows:
Combination of authors, year of data paper publication (in parentheses), Title, Journal Name, Volume, Issue number (in parentheses), and doi of the data paper.
Keywords
Marine turtles; monitoring; Coast; Togo; ecoguards; Lomé; Lepidochelys olivacea; Chelonia mydas; Dermochelys coriacea; Observation
Contacts
Who created the resource:
Raoufou Radji
Node Manager
GBIF-TOGO
01bp:1515 lome1
01BP:1515 Lome1 Lomé
Maritim
TG
+22890045114
http://univ-lome.tg
Who can answer questions about the resource:
Assou Délagnon
Chercheur
ONG AGBO-ZEGUE
2Togolese Society for the Conservation of nature / Association Togolaise pour la Conservation de la Nature
6057 Lomé
Golfe
TG
Who filled in the metadata:
Geographic Coverage
Over the 2012-2013 period, and during the monitoring campaign, three species of marine turtles were observed. 740 occurrences were recorded and distributed as follows: 409 individuals of olive ridley turtle (Lepidochelys olivacea) (Photo 1), 309 occurrences of green turtle (Chelonia mydas) (Photo 2), and 19 of leatherback turtle (Dermochelys coriacea) (Photo 3). Figure 2 shows the distribution of these turtle on the Togolese coast. This distribution is more or less important depending on the collection locations
| | |
| --- | --- |
| Bounding Coordinates | South West [6.097, 1.06], North East [6.318, 1.813] |
Taxonomic Coverage
Over the 2012-2013 period, and during the monitoring campaign, three species of marine turtles were observed. 740 occurrences were recorded and distributed as follows: 409 individuals of olive ridley turtle (Lepidochelys olivacea) (Photo 1), 309 occurrences of green turtle (Chelonia mydas) (Photo 2), and 19 of leatherback turtle (Dermochelys coriacea) (Photo 3). Figure 2 shows the distribution of these turtle on the Togolese coast. This distribution is more or less important depending on the collection locations
Project Data
No Description available
| | |
| --- | --- |
| Title | Strengthening the biodiversity stakeholders network in Togo |
| Identifier | BID-AF2015-0004-NAC |
The personnel involved in the project: