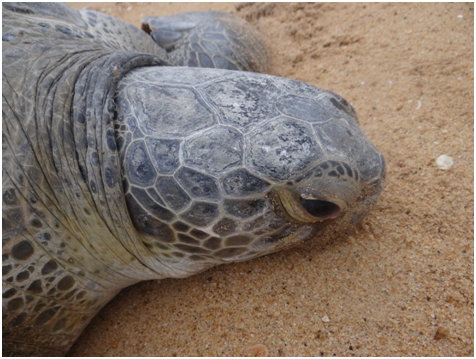 Monitoring data of marine turtles on Togolese coast over 2012-2013 period
Versão mais recente publicado por Université de Lomé em

10 de Maio de 2018

Université de Lomé
This dataset contains information on the presence and distribution of sea turtle in Togo. Observations were carried out through a network of 10 eco-guards (local guides),facilitated by 5 fishermen and coordinated by a field technician; and all under the supervision of a scientific coordinator. It contains data on the occurrence or direct observation of sea turtles on the Togolese coast from September 2012 to August 2013. A total of 740 occurrences were recorded.
Registros de Dados
Os dados deste recurso de ocorrência foram publicados como um Darwin Core Archive (DwC-A), que é o formato padronizado para compartilhamento de dados de biodiversidade como um conjunto de uma ou mais tabelas de dados. A tabela de dados do núcleo contém 740 registros.
Este IPT armazena os dados e, portanto, serve como um repositório de dados. Os dados e os metadados do recurso estão disponíveis para download no seção de downloads. A tabela de versões lista outras versões do recurso que foram disponibilizadas ao público e permite o rastreamento das alterações realizadas no recurso ao longo do tempo.
Downloads
Baixe a última versão do recurso de dados, como um Darwin Core Archive (DwC-A) ou recurso de metadados, como EML ou RTF:
Versões
A tabela abaixo mostra apenas versões de recursos que são publicamente acessíveis.
Como citar
Pesquisadores deveriam citar esta obra da seguinte maneira:
Combination of authors, year of data paper publication (in parentheses), Title, Journal Name, Volume, Issue number (in parentheses), and doi of the data paper.
Palavras-chave
Marine turtles; monitoring; Coast; Togo; ecoguards; Lomé; Lepidochelys olivacea; Chelonia mydas; Dermochelys coriacea; Observation
Contatos
Quem criou esse recurso:
Raoufou Radji
Node Manager
GBIF-TOGO
01bp:1515 lome1
01BP:1515 Lome1 Lomé
Maritim
TG
+22890045114
http://univ-lome.tg
Quem pode responder a perguntas sobre o recurso:
Assou Délagnon
Chercheur
ONG AGBO-ZEGUE
2Togolese Society for the Conservation of nature / Association Togolaise pour la Conservation de la Nature
6057 Lomé
Golfe
TG
Quem preencher os metadados:
Cobertura Geográfica
Over the 2012-2013 period, and during the monitoring campaign, three species of marine turtles were observed. 740 occurrences were recorded and distributed as follows: 409 individuals of olive ridley turtle (Lepidochelys olivacea) (Photo 1), 309 occurrences of green turtle (Chelonia mydas) (Photo 2), and 19 of leatherback turtle (Dermochelys coriacea) (Photo 3). Figure 2 shows the distribution of these turtle on the Togolese coast. This distribution is more or less important depending on the collection locations
| | |
| --- | --- |
| Coordenadas delimitadoras | Sul Oeste [6,097, 1,06], Norte Leste [6,318, 1,813] |
Cobertura Taxonômica
Over the 2012-2013 period, and during the monitoring campaign, three species of marine turtles were observed. 740 occurrences were recorded and distributed as follows: 409 individuals of olive ridley turtle (Lepidochelys olivacea) (Photo 1), 309 occurrences of green turtle (Chelonia mydas) (Photo 2), and 19 of leatherback turtle (Dermochelys coriacea) (Photo 3). Figure 2 shows the distribution of these turtle on the Togolese coast. This distribution is more or less important depending on the collection locations
Dados Sobre o Projeto
Nenhuma descrição disponível
| | |
| --- | --- |
| Título | Strengthening the biodiversity stakeholders network in Togo |
| Identificador | BID-AF2015-0004-NAC |
O pessoal envolvido no projeto: